Gresham Barrett's Quotes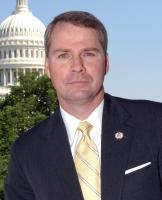 See the gallery for quotes by Gresham Barrett. You can to use those 8 images of quotes as a desktop wallpapers.
As a dedicated and proud father of three, I am a strong advocate of life. I value life whether born or unborn.
Tags: Father, Life, Strong
At the end of the day, we need a leader who thinks with his head but leads with his heart.
Tags: End, Heart, Leader
While war is never anyone first choice, sometimes it is a necessary choice.
Tags: Choice, Sometimes, War
You may boo, you may turn your back, but I have devoted my life to the conservative cause.
Tags: Life, May, Turn
Younger workers should have more freedom to build their retirement nest egg.
Tags: Build, Egg, Freedom
Visit partners pages