Gunter Grass's Quotes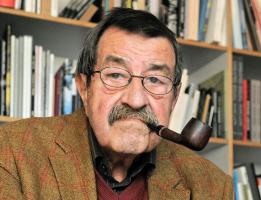 See the gallery for quotes by Gunter Grass. You can to use those 6 images of quotes as a desktop wallpapers.
Visit partners pages
Much more quotes by Gunter Grass below the page.
Lies that do not hurt, which are different from lies that protect oneself or hurt another person. That is not my business. But the truth is mostly very boring, and you can help it along with lies. There is no harm in that.
Tags: Business, Hurt, Truth
My relationship with Wilhelm and Jacob Grimm reaches far back into my childhood. I grew up with Grimm's fairy tales. I even saw a theater production of 'Tom Thumb' during Advent at the State Theater in Danzig, which my mother took me to see.
Tags: Far, Mother, State
What I do is sometimes - at least in Germany - met with wounding campaigns. I always face the question: should I grow myself a thick skin and ignore it, or should I let myself be wounded? I've decided to be wounded, since, if I grew a thick skin, there are other things I wouldn't feel any more.
Tags: Ignore, Question, Sometimes