Harold Prince's Quotes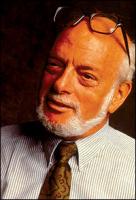 See the gallery for quotes by Harold Prince. You can to use those 4 images of quotes as a desktop wallpapers.
The idea that I have to be on the same side of the fence as Dan Quayle is cruelly depressing to me, but the truth is, I believe in family values.
Tags: Family, Idea, Truth
The musical has always been in jeopardy - until - or was in jeopardy until it was realised that it is probably the safest living theatre art form.
Tags: Art, Living, Until
The perfect expression of receiving a lifetime award is to be working when they're handing it out.
Tags: Expression, Perfect, Working
The truth is, for some absurd reason, no one is willing to admit that the interests of the producers and the theater owners are not the same.
Tags: Reason, Truth, Willing
There are wonderful composers and librettists out there. It's the lack of creative producers that is troubling.
Tags: Creative, Lack, Wonderful
There have always been revivals. Some have always been successful. And many of them have failed.
Tags: Failed, Successful
There was never any question that I would go to college, that I would travel, that I would go to the theater early and often.
Tags: College, Often, Travel
Throwing money at something doesn't really create - forgive me that onerous word - art.
Tags: Art, Forgive, Money
We've got to find a way to protect the process of making musical theater.
Tags: Making, Process, Theater
What's missing in the musical theater is producers willing to nurture new work, raise the money and put it on.
Tags: Money, Put, Work
You think, 'Musicals, they must always be romantic' - You'd be surprised how few of them historically have ever been romantic.
Tags: Few, Romantic, Surprised
All these actors who died before I was born, all the theaters and the artistic movements - all that stuff fills you up and makes you feel like you're the inheritor of all this information and of all its passion.
Tags: Born, Makes, Passion
Visit partners pages
Visit partners pages
Much more quotes by Harold Prince below the page.