Howard Coble's Quotes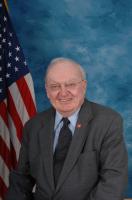 See the gallery for quotes by Howard Coble. You can to use those 6 images of quotes as a desktop wallpapers.
Visit partners pages
Much more quotes by Howard Coble below the page.
Of the five House Calendars, the Private Calendar is the one to which all Private Bills are referred. Private Bills deal with specific individuals, corporations, institutions, and so forth, as distinguished from public bills which deal with classes only.
Tags: Deal, House, Public
Tonight, I concurred with President Bush when he stated that the decisions on future involvement of U.S. troops in Iraq should be left to the Pentagon and not politicians in Washington.
Tags: Decisions, Future, President
When the government is handed over to the Iraqi Council on 30 June, many have declared, oh, the Americans must never leave because civil unrest may erupt. Well, I agree, we cannot abruptly depart, but Iraq needs to step up to the plate on 30 June.
Tags: Cannot, Government, May