Jerry Cantrell's Quotes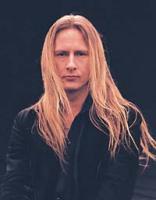 See the gallery for quotes by Jerry Cantrell. You can to use those 8 images of quotes as a desktop wallpapers.
Our music's kind of about taking something ugly and making it beautiful.
Tags: Beautiful, Making, Music
You feel different every day of your life. You just have to create your own space to survive, personally and professionally.
Tags: Create, Life, Space
One thing that you hope for when you want to be a musician is that you have that recognizable sound.
Tags: Hope, Musician, Sound
Rehearsals and this band are two words that don't really go together, kinda like Military Intelligence.
Tags: Military, Together, Words
That's always been a dream for me, to be able to collaborate and make music with the people that inspired you to make music.
Tags: Able, Dream, Music
To me not one thing is better than anything else, I'm completely proud of everything I've written and recorded.
Tags: Else, Proud, Written
I've been a fan of Metallica and friends with those guys for a long time and that was just great - half Alice In Chains and half Metallica playing together.
Tags: Great, Time, Together
In '98, I locked myself in my house, went out of my mind and wrote 25 songs. I rarely bathed during that period of writing, I sent out for food, I didn't really venture out of my house in three or four months. It was a hell of an experience.
Tags: Experience, Food, Mind
Visit partners pages