John Motson's Quotes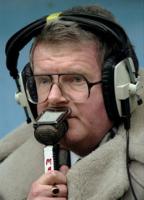 See the gallery for quotes by John Motson. You can to use those 8 images of quotes as a desktop wallpapers.
Brazil - they're so good it's like they are running round the pitch playing with themselves.
Tags: Good, Playing, Themselves
Its Arsenal 0 - Everton 1, and the longer it stays like that the more you've got to fancy Everton.
Tags: Arsenal, Fancy, Longer
Nearly all the Brazilian supporters are wearing yellow shirts - it's a fabulous kaleidoscope of colour.
Tags: Colour, Fabulous, Yellow
Not the first half you might have expected, even though the score might suggest that it was.
Tags: Half, Might, Though
The match has become quite unpredictable, but it still looks as though Arsenal will win the cup.
Tags: Become, Though, Win
Visit partners pages