Leigh Hunt's Quotes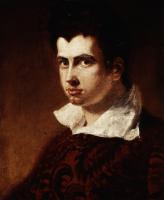 See the gallery for quotes by Leigh Hunt. You can to use those 7 images of quotes as a desktop wallpapers.
The person who can be only serious or only cheerful, is but half a man.
Tags: Cheerful, Half, Serious
The same people who can deny others everything are famous for refusing themselves nothing.
Tags: Famous, Others, Themselves
If you are ever at a loss to support a flagging conversation, introduce the subject of eating.
Tags: Food, Loss, Support
If you ever have to support a flagging conversation, introduce the topic of eating.
Tags: Eating, Introduce, Support
It is books that teach us to refine our pleasures when young, and to recall them with satisfaction when we are old.
Tags: Books, Old, Young
The only place a new hat can be carried into with safety is a church, for there is plenty of room there.
Tags: Church, Place, Room
There are two worlds: the world we can measure with line and rule, and the world that we feel with our hearts and imagination.
Tags: Hearts, Line, Rule
Your second-hand bookseller is second to none in the worth of the treasures he dispenses.
Tags: Second, Treasures, Worth
Visit partners pages