Marge Piercy's Quotes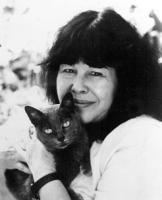 See the gallery for quotes by Marge Piercy. You can to use those 6 images of quotes as a desktop wallpapers.
A strong woman is a woman determined to do something others are determined not be done.
Tags: Strength, Strong, Woman
When I work I am pure as an angel tiger and clear is my eye and hot my brain and silent all the whining grunting piglets of the appetites.
Tags: Brain, Silent, Work
Long hair is considered bohemian, which may be why I grew it, but I keep it long because I love the way it feels, part cloak, part fan, part mane, part security blanket.
Tags: Love, May, Why
The real writer is one who really writes. Talent is an invention like phlogiston after the fact of fire. Work is its own cure. You have to like it better than being loved.
Tags: Fire, Real, Work
Visit partners pages