Sally Rand's Quotes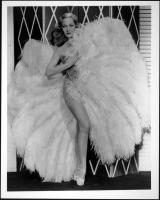 See the gallery for quotes by Sally Rand. You can to use those 7 images of quotes as a desktop wallpapers.
I have never retired - I have averaged 40 working weeks a year since 1933.
Tags: Since, Working, Year
I like boys. I am not foreign; I was born and raised in Hickory County, Mo.
Tags: Born, County, Foreign
What in heaven's name is strange about a grandmother dancing nude? I'll bet lots of grandmothers do it.
Tags: Heaven, Name, Strange
They planned this fair to bring business to Chicago, into the Loop. But you could have fired a cannon down state street and hit nobody, because everybody was out at the fair.
Tags: Business, Fair, State
Visit partners pages