Sharron Angle's Quotes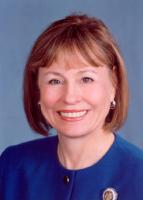 See the gallery for quotes by Sharron Angle. You can to use those 6 images of quotes as a desktop wallpapers.
And that's really what's happening in this country is a violation of the First Commandment. We have become a country entrenched in idolatry, and that idolatry is the dependency upon our government. We're supposed to depend upon God for our protection and our provision and for our daily bread, not for our government.
Tags: Daily, God, Government
And truly, when you look at the Constitution and our founding fathers and their writings, the things that made this country great, you might draw those conclusions: That they were conservative. They were fiscally conservative and socially conservative.
Tags: Country, Great, Might
You can make more money on unemployment than you can going down and getting one of those jobs that is an honest job, but it doesn't pay as much. And so, that's what's happened to us is that we have put in so much entitlement into our government, that we really have spoiled our citizenry and said you don't want the jobs that are available.
Tags: Government, Job, Money
You know, this is a war of ideology, a war of thoughts and of faith. And we need people to really stand for faith and trust, not hope and change.
Tags: Change, Faith, Trust
Our Founders warned against this. They said don't... that your liberty is only as secure as the people are. Because once they, um, get the ability to vote themselves entitlements from the largesse of the government, liberty is done; freedom is over with. We were warned. We are there.
Tags: Done, Freedom, Government
People have always said - those words, 'too conservative,' is fairly relative. I'm sure that they probably said that about Thomas Jefferson and George Washington and Benjamin Franklin.
Tags: Said, Sure, Words
I'm pro responsible choice. You know, there is choice to abstain, choice to do contraception. There are all kinds of good choices.
Tags: Choice, Choices, Good
And we know that once we have a majority that are dependent upon the government, we will lose our freedom; it says we go into bondage. That's the next stage.
Tags: Freedom, Government, Lose
I think that, you know, when we start talking about the Tea Party, people want to marginalize that into some kind of organization or party, but it really isn't.
Tags: Party, Start, Talking
They keep extending these unemployment benefits to the point where people are afraid to go out and get a job, because the job doesn't pay as much as the unemployment benefit does.
Tags: Afraid, Job, Keep
You know, I am mainstream America, and it really doesn't matter what party you're in. When you call your children and you say 'How are you?' - and what you are really asking is, 'Do you still have your job? And are you able to make the mortgage payment?', That resonates across the state, not across party lines.
Tags: America, Children, Job
You know, I'm a Christian and I believe that God has a plan and a purpose for each one of our lives and that he can intercede in all kinds of situations and we need to have a little faith in many things.
Tags: Christian, Faith, God
Visit partners pages