Townes Van Zandt's Quotes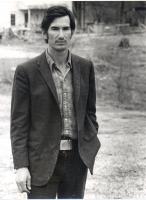 See the gallery for quotes by Townes Van Zandt. You can to use those 8 images of quotes as a desktop wallpapers.
I don't think you can ever do your best. Doing your best is a process of trying to do your best.
Tags: Best, Process, Trying
Human's can't live in the present as animals do; they just live in the present. But human's are always thinking about the future or the past.
Tags: Future, Human, Past
I don't envision a very long life for myself. I think my life will run out before my work does. I've designed it that way.
Tags: Life, Run, Work
I don't know why I write really depressing songs. I'm a kind of melancholy guy, I suppose. But I figure I'm about normal.
Tags: Guy, Why, Write
I'd like to write some songs that are so good that nobody understands them. Not even myself.
Tags: Good, Nobody, Write
What I do is between me and the Lord, to examine and possibly alter the state of grace in which I live, and thereby the state of grace of anybody who listens.
Tags: Between, Lord, State
Visit partners pages