Trace Adkins's Quotes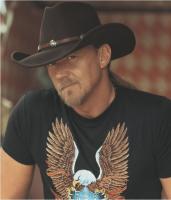 See the gallery for quotes by Trace Adkins. You can to use those 8 images of quotes as a desktop wallpapers.
I only record songs that I really like and believe in and can sing with conviction.
Tags: Conviction, Sing, Songs
If I feel like doing something, I do it. If I feel like saying something, I say it. If I feel like dancing, I do. If I don't, I don't.
Tags: Dancing, Saying
It's great to be able to get up there now and do an hour or 75 minutes of songs they're familiar with.
Tags: Able, Great, Songs
People get passionate about a song. It's been my experience if you put out radio candy, something commercial, it doesn't sell records.
Tags: Experience, Put, Song
Visit partners pages