Yohan Blake's Quotes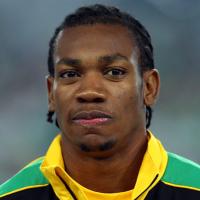 See the gallery for quotes by Yohan Blake. You can to use those 4 images of quotes as a desktop wallpapers.
I've always been working just to be a world champion and it's a dream come true.
Tags: Dream, True, Working
I don't need to scare the other athletes. When I'm running, I will scare them.
Tags: Athletes, Running, Scare
If you can come to the Olympic Games and leave with a medal then that is alright.
Tags: Alright, Games, Leave
One thing I really hate is experience. Experience for me doesn't work. Everybody's talking about experience this, experience that.
Tags: Experience, Hate, Work
Visit partners pages
Visit partners pages
Much more quotes by Yohan Blake below the page.