Barbet Schroeder's Quotes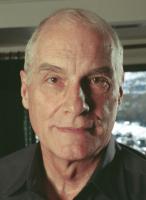 See the gallery for quotes by Barbet Schroeder. You can to use those 8 images of quotes as a desktop wallpapers.
When you kill somebody in the movies, it matters, whereas in literature it can be allegorical.
Tags: Matters, Movies, Somebody
Hallucinatory - that's just the way everyday life is, in Colombia. All the time, you say to yourself, did I just see that?
Tags: Life, Time, Yourself
Every ten years there is a new generation of actors.
Tags: Generation, Ten
I chose to treat the homosexuality like I would treat any other form of sexuality.
Tags: Chose, Sexuality, Treat
I try not to have favorites, but Barfly is one that I like. My favorite is always the one I just finished.
Tags: Favorite, Finished, Try
I've been following what's happening in Colombia because it's the country of my childhood.
Tags: Childhood, Country, Happening
Visit partners pages