Boris Vallejo's Quotes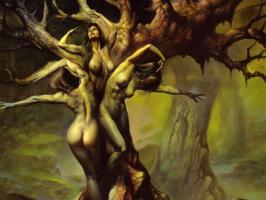 See the gallery for quotes by Boris Vallejo. You can to use those 7 images of quotes as a desktop wallpapers.
There have been many different artists that have been inspirational. I suppose the question is directed to what was the reason why I went into fantasy illustration.
Tags: Question, Reason, Why
I find that acrylics dry very fast - which is supposed to be its charm; however, I find that because of that quality they don't blend as nicely as the oils. The oils, for one thing, are softer and more flexible than the acrylics. Also, the colors are brighter with oils.
Tags: Fast, However, Quality
You can not do what you want to do unless you know the correct technique. The only other way you can learn how to do it is by doing it yourself, which would take twice as long than if you went to school.
Tags: Learn, School, Yourself
You can't do a machine without knowing something about how it's going to work. As for the romantics, the costumes bored me and I don't enjoy doing period clothes.
Tags: Bored, Enjoy, Work
Visit partners pages