Bruce Weber's Quotes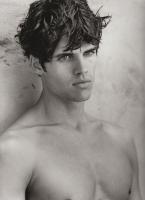 See the gallery for quotes by Bruce Weber. You can to use those 8 images of quotes as a desktop wallpapers.
As a child, people were always trying to photograph and film me because it's a way for a shy person to find themselves.
Tags: Child, Themselves, Trying
I've always been shy and that's partly why I chose a life behind the lens. I like people to look at my work and hopefully it speaks for itself.
Tags: Life, Why, Work
Well, my life is so centered around the people I care about, my animals, and my work.
Tags: Care, Life, Work
Sometimes there's a sense of closing yourself off on a shoot, and I try not to do that. Sometimes you have to, like when you're in a studio and you're doing fashion shooting, but I don't even do it then.
Tags: Fashion, Try, Yourself
When you make documentaries or short films, you have to have eyes and ears in the back of your head and on the sides and all around you. I like that in my films.
Tags: Eyes, Head, Short
You know, my dad wasn't a photographer or filmmaker by profession, but on Sundays, he would take pictures of me and my family or his pals horseback riding, and it was a means of communication and affection, a means of not being so dysfunctional with each other.
Tags: Dad, Family, Means
Visit partners pages