Charlene, Princess of Monaco's Quotes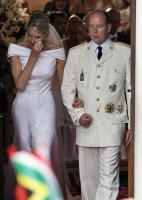 See the gallery for quotes by Charlene, Princess of Monaco. You can to use those 8 images of quotes as a desktop wallpapers.
Grace Kelly forged a link between Monaco and the movie world, and I would like to create a strong bond between Monaco and the fashion community.
Tags: Between, Fashion, Strong
I don't want to be a princess who sits on the sidelines; I want to be present and actively involved. It's a life with a purpose.
Tags: Life, Present, Purpose
I personally want to have children. I love children, and I simply can't wait to have a family of my own.
Tags: Children, Family, Love
My foundation is based on helping children, and I hand-pick projects that are close to my heart and home.
Tags: Children, Heart, Home
Sport has given me drive and discipline. It also taught me to remain humble.
Tags: Discipline, Drive, Humble
We need to instill the values that are important for future generations, and above all we have to show boys how to respect women.
Tags: Future, Respect, Women
As for the French language, it's probably one of the most beautiful in the world. I speak a little bit and I can follow conversations, but I think it will take time to improve myself.
Tags: Beautiful, Speak, Time
I had been playing beach volleyball all day, painted my nails red, and threw on a green dress. I thought I looked great at the time, but looking back, I realize that my debut into Monaco society should have been better executed!
Tags: Great, Society, Time
The people I mixed with in Monaco didn't relate to my South African mentality or humor... Although I have met some wonderful people since I've been living in Monaco, I regard them all as acquaintances. I only have two people I consider friends here.
Tags: Friends, Humor, Living
What's happening to our world? Imagine the year 2000 and our ozone layer has vanished... Our planet has a fever and she is burning up - what will you do?
Tags: Imagine, She, Year
Visit partners pages