Cilla Black's Quotes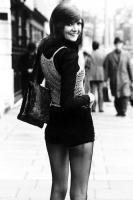 See the gallery for quotes by Cilla Black. You can to use those 6 images of quotes as a desktop wallpapers.
I had to do the book because there was an unauthorised biography which didn't tell it like it was.
Tags: Biography, Book, Tell
It was an unknown thing, a lot of people had very bad trips and I like to be in control.
Tags: Bad, Control, Unknown
Nothing is a career move. Everything I've done this year has so not been a career move.
Tags: Career, Done, Year
The best advice he gave me was to carry on. It would have been difficult to set foot back inside a TV studio if I hadn't carried on - I don't know if I would have ever gone back in.
Tags: Advice, Best, Difficult
Well it has been very exciting and very changing as well. Celebrating the 40th year and having the album out and the Channel 4 documentary and I resigned from Blind Date.
Tags: Blind, Exciting, Year
Visit partners pages