Dorothy Kilgallen's Quotes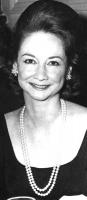 See the gallery for quotes by Dorothy Kilgallen. You can to use those 8 images of quotes as a desktop wallpapers.
I don't need a psychiatrist. I'm Catholic.
Tags:
Catholic
Doorman - a genius who can open the door of your car with one hand, help you in with the other, and still have one left for the tip.
Tags: Car, Door, Help
I'm off to race around the world - a race against time and two men. I know I can beat time. I hope I can beat the men.
Tags: Hope, Men, Time
Lenny Bruce is a very moral man trying to improve the world and trying to make audiences think.
Tags: Improve, Moral, Trying
Sodomy is in the Bible, to be read in churches. I wouldn't rule it out of Mr. Bruce's act if he cares to comment on it.
Tags: Act, Bible, Read
Things said to a reporter in confidence should be kept in confidence.
Tags: Confidence, Kept, Said
Visit partners pages