Ford Frick's Quotes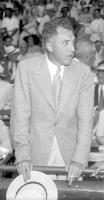 See the gallery for quotes by Ford Frick. You can to use those 8 images of quotes as a desktop wallpapers.
Take pride in your work at all times. Remember, respect for an umpire is created off the field as well as on.
Tags: Remember, Respect, Work
Never charge a player and, above all, no pointing your finger or yelling.
Tags: Above, Charge, Player
Review your work. You will find, if you are honest, that 90% of the trouble is traceable to loafing.
Tags: Honest, Trouble, Work
Visit partners pages