Greg Evigan's Quotes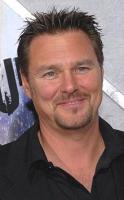 See the gallery for quotes by Greg Evigan. You can to use those 8 images of quotes as a desktop wallpapers.
I've been playing the bad guy in the last seven or eight projects I've done. I like it. It's a lot more interesting! Being the good guy gets a little stale after a while, you know?
Tags: Bad, Done, Good
Sci-fi fans are the most loyal fans on the planet - there's no doubt about it. I've done a few of those conventions, and these people will know the lines!
Tags: Done, Doubt, Few
I am back in Los Angeles after a very successful run in Chicago as Billy Flynn.
Tags: After, Run, Successful
I'm a tek addict myself. No matter where you are, people are looking for something to tear them away from reality, challenge their state of mind.
Tags: Challenge, Mind, Reality
I'm actually in my 22-year-old son Jason's band, After Midnight Project. The music is like Coldplay-ish rock.
Tags: After, Music, Rock
Visit partners pages