Harvey S. Firestone's Quotes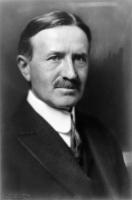 See the gallery for quotes by Harvey S. Firestone. You can to use those 6 images of quotes as a desktop wallpapers.
If you have ideas, you have the main asset you need, and there isn't any limit to what you can do with your business and your life. Ideas are any man's greatest asset.
Tags: Business, Leadership, Life
Our company is built on people - those who work for us, and those we do business with.
Tags: Business, Company, Work
Capital isn't that important in business. Experience isn't that important. You can get both of these things. What is important is ideas.
Tags: Both, Business, Experience
I can walk through the front door of any factory and out the back and tell you if it's making money or not. I can just tell by the way it's being run and by the spirit of the workers.
Tags: Door, Money, Tell
Visit partners pages