Henry Hopper's Quotes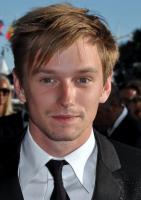 See the gallery for quotes by Henry Hopper. You can to use those 8 images of quotes as a desktop wallpapers.
I don't want to be in a movie with 20 minutes of dialogue and then stand around while the robots start explosions.
Tags: Stand, Start, While
I see myself as a creative being. My only fear is compromising my integrity. I guess that's a constant struggle.
Tags: Fear, Integrity, Struggle
I'm no romantic, surfing, California boy. I like reading, writing, philosophizing. Scheming. I've been doing some exploration of the inner space.
Tags: Reading, Romantic, Writing
While I'm here on this planet, I really want to create art and do creative things.
Tags: Art, Creative, Here
You can very easily be turned into a commodity. I've grown up with it.
Tags: Commodity, Grown, Turned
Film is something that reaches so many people. How many people are going to go into a gallery? And understand what they're seeing? I think about the guy walking down the street, the guy who drove me here - this guy has the opportunity to go the cinema.
Tags: Film, Here, Understand
Visit partners pages