Jim Ryun's Quotes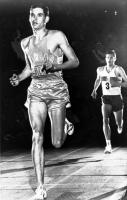 See the gallery for quotes by Jim Ryun. You can to use those 8 images of quotes as a desktop wallpapers.
Much more quotes by Jim Ryun below the page.
Skyrocketing insurance premiums are debilitating our Nation's health care delivery system and liability insurers are either leaving the market or raising rates to excessive levels.
Tags: Care, Health, Leaving
The majority of Americans receive health insurance coverage through their employers, but with rising health care costs, many small businesses can no longer afford to provide coverage for their employees.
Tags: Care, Health, Small