JoBeth Williams's Quotes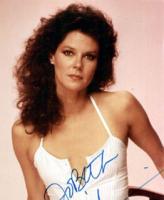 See the gallery for quotes by JoBeth Williams. You can to use those 8 images of quotes as a desktop wallpapers.
I think there's a danger of a being typecast as the all-American mom forever.
Tags: Danger, Forever, Mom
I was concerned about doing a sequel and repeating myself. That was before I read the script.
Tags: Concerned, Read, Repeating
I was raised in cities but I was raised in Texas, so there's a certain amount of connection to the earth.
Tags: Connection, Earth, Texas
It was my first scene in any movie and my only scene in Kramer vs. Kramer. I was petrified.
Tags: Movie, Petrified, Scene
Larry Kasdan wanted us all there, all the time, even if we weren't filming.
Tags: Time, Wanted, Weren
I felt they had really moved the characters in a direction that was very interesting. The family had really felt the impact of what had happened to the.
Tags: Direction, Family, Felt
I think a lot of the time, we don't give our family connections the kind of credit they deserve, like how important they are to us and how much they mean to us. I think family makes all the difference.
Tags: Family, Mean, Time
I wanted to play the part that Mary Kay played, the lawyer who wanted to have baby and felt her clock ticking, because it was something I could relate to.
Tags: Baby, Her, Wanted
Visit partners pages