Joe Strummer's Quotes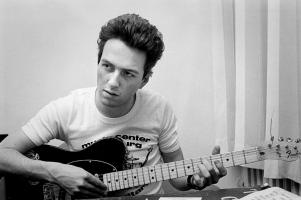 See the gallery for quotes by Joe Strummer. You can to use those 8 images of quotes as a desktop wallpapers.
When you blame yourself, you learn from it. If you blame someone else, you don't learn nothing, cause hey, it's not your fault, it's his fault, over there.
Tags: Blame, Someone, Yourself
Yeah, all those things, responsibility, pressure. It's a bit stressful. I try and come to terms with it by not thinking about it.
Tags: Pressure, Thinking, Try
What I like about playing America is you can be pretty sure you're not going to get hit with a full can of beer when you're singing and I really enjoy that!
Tags: America, Enjoy, Pretty
I don't want to look back. I want to keep going forward, I still have something to say to people.
Tags: Forward, Keep
I think we're going to have to forget about the radio and just go back to word of mouth.
Tags: Forget, Mouth, Word
If you ain't thinkin' about man and God and law, then you ain't thinkin' about nothin'.
Tags: God, Law, Nothin
I began thinking there should be an American phrase book, 'cause I've got an Italian phrase book, and an Arabic one... now a British one. I think it'd be pretty good to have an American phrase book.
Tags: Book, Good, Thinking
I have a weird life because I live on songwriting royalties, which are a strange income. Sometimes it rains, sometimes it doesn't.
Tags: Life, Sometimes, Strange
I only saw my father twice a year. If I'd seen him all the time I'd probably have murdered him by now. He was very strict.
Tags: Father, Him, Time
The only place I considered home was the boarding school, in Yorkshire, my parents sent me to.
Tags: Home, Parents, School
Anyway, it's good to be sent back to the underground. There's always a good side to bad things and the good side to this is that at least everyone has to go back down.
Tags: Bad, Everyone, Good
Visit partners pages