Katie Couric's Quotes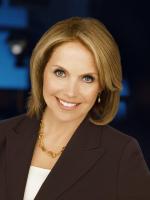 See the gallery for quotes by Katie Couric. You can to use those 7 images of quotes as a desktop wallpapers.
Visit partners pages
Much more quotes by Katie Couric below the page.
Now, if they're there to talk about something specifically, and I determine through my own editorial judgment, that another area isn't germane, or isn't an important part of it, that's something else. But we never agree to anything in advance, absolutely not.
Tags: Another, Else, Talk
So I don't really focus too much on that, and I think it's dangerous if your goal in life is to get the other guy, then you're not going to be doing a really quality job yourself.
Tags: Focus, Life, Yourself