Kirsty Coventry's Quotes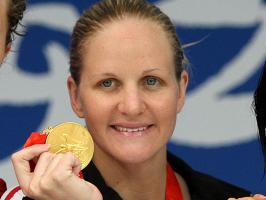 See the gallery for quotes by Kirsty Coventry. You can to use those 7 images of quotes as a desktop wallpapers.
Everyone there including President Mugabe knows something needs to change because so many people are hurting.
Tags: Change, Everyone, Hurting
I have always stayed out of politics, I don't believe it would be appropriate to talk about it.
Tags: Politics, Stayed, Talk
I take any opportunity I can to raise our country's flag really high and get some shining positive light on things over there.
Tags: Country, Light, Positive
In athletics, older runners tend to go for longer races, but it's the opposite in swimming because your body can't handle the endurance.
Tags: Body, Endurance, Older
It is much harder to retain your position at the top than to get to the top.
Tags: Harder, Position, Top
People have to remain positive and believe in those dreams. It's really important.
Tags: Dreams, Positive, Remain
Everyone at home is so supportive. People recognise me, say how proud they are of me. It's awesome to hear, it's amazing to know I can touch so many people in a positive way.
Tags: Amazing, Home, Positive
There are younger, stronger swimmers coming up and they are hungry. I can't influence what they do, I only know what I can do and I know how greedy I am to defend my title.
Tags: Coming, Greedy, Influence
Visit partners pages