Milton Berle's Quotes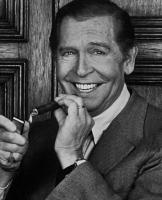 See the gallery for quotes by Milton Berle. You can to use those 8 images of quotes as a desktop wallpapers.
I'd rather be a could-be if I cannot be an are; because a could-be is a maybe who is reaching for a star. I'd rather be a has-been than a might-have-been, by far; for a might have-been has never been, but a has was once an are.
Tags: Cannot, Far, Rather
We owe a lot to Thomas Edison - if it wasn't for him, we'd be watching television by candlelight.
Tags: Him, Television, Watching
I live to laugh, and I laugh to live.
Tags:
Laugh
Anytime a person goes into a delicatessen and orders a pastrami on white bread, somewhere a Jew dies.
Tags: Bread, Goes, White
I just filled out my income tax forms. Who says you can't get killed by a blank?
Tags: Income, Says, Tax
I feel like Zsa Zsa Gabor's sixth husband. I know what I'm supposed to do, but I don't know how to make it interesting.
Tags: Husband, Sixth, Supposed
The company accountant is shy and retiring. He's shy a quarter of a million dollars. That's why he's retiring.
Tags: Company, Shy, Why
Visit partners pages