Morena Baccarin's Quotes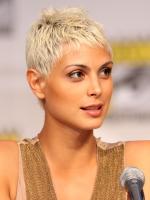 See the gallery for quotes by Morena Baccarin. You can to use those 7 images of quotes as a desktop wallpapers.
Visit partners pages
Much more quotes by Morena Baccarin below the page.
I've love to do more movies. Just because I'm interested in the medium very much. I've done a lot of theatre at this point, and I've done a lot of TV. I've done a few independent films, but a lot of them have not seen the light of day. It'd be really nice to be in a film that gets out there.
Tags: Love, Movies, Nice
My mom is an actress, but she never really pushed me into it, and it was never something I thought I would be doing. She was very happy I decided to, but she certainly doesn't offer me criticism because she knows I'd tell her to shut up! Nobody wants to hear that from their mum!
Tags: Happy, Mom, Thought