Patti Page's Quotes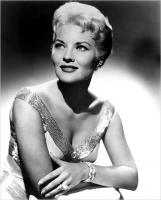 See the gallery for quotes by Patti Page. You can to use those 7 images of quotes as a desktop wallpapers.
I was a kid from Oklahoma who never wanted to be a singer, but was told I could sing. And things snowballed.
Tags: Kid, Singer, Wanted
What I like about singing is that, for me, it's a substitute for the psychiatrist's couch.
Tags: Couch, Singing, Substitute
Your voice dries up if you don't use it.
Tags:
Voice
I always thought that Elvis could have been a great actor, and that he was put in a lot of unimportant movies when he could have done a lot of great ones.
Tags: Done, Great, Movies
I think that one of Elvis' charms was that he could sing almost any kind of music. I am sure that in his heart, which I don't know what was there, but just from his singing I could feel that he was very partial to gospel music.
Tags: Heart, Music, Sure
I'm sure there are a lot of things I should have done differently. But I don't think I've stepped on anyone along the way. If I have, I didn't mean to.
Tags: Done, Mean, Sure
A discerning eye needs only a hint, and understatement leaves the imagination free to build its own elaborations.
Tags: Eye, Free, Needs
Visit partners pages