Seth Green's Quotes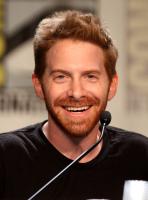 See the gallery for quotes by Seth Green. You can to use those 7 images of quotes as a desktop wallpapers.
Visit partners pages
Much more quotes by Seth Green below the page.
I've noticed that girls between like 20 and 30 seem to know 'Can't Hardly Wait.' I got the goth kids who know 'Buffy.' I got this wide spectrum of people who range from like 8 to 13 who seem to know 'Scooby-Doo.' Then I get the international people who seem to know 'Austin Powers' and 'The Italian Job.'
Tags: Between, Job, Wait
'Star Wars' is such a phenomenal global supernova that anything that gets said about it becomes kind of fact and gospel, and then taken by the legions of fans who are so excited to have more 'Star Wars,' that they roll off on all sorts of flights of fancy.
Tags: Fact, Off, Said
Three or four years ago, I got really caught up in the movies people were making, the opportunities they were getting, and I was looking at them with bitterness.
Tags: Bitterness, Making, Movies