Sprague Grayden's Quotes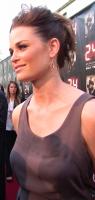 See the gallery for quotes by Sprague Grayden. You can to use those 8 images of quotes as a desktop wallpapers.
Secretly, I'm a real big nerd. I'd rather stay home and play Scrabble than go to a Hollywood party, any day of the week. And I love reading about history and watching the Discovery Channel.
Tags: History, Home, Love
I was lucky I was raised by parents who gave me a lot of sense of self and a lot of confidence in myself.
Tags: Confidence, Parents, Self
I'm usually the character people love to hate, because I used to play bad girls all the time.
Tags: Hate, Love, Time
I've never done an action show, really. On 'Jericho,' other people got to ride horses and shoot guns, but I never did.
Tags: Action, Done, Show
If you just stay away from junk, and stick with what your mom taught you, you're eating pretty healthy.
Tags: Away, Mom, Pretty
I think I'm a part of all the characters I play, definitely at different times in my life. In real life, I'm kind of a tomboy. I like to read a lot I like watching T.V. I don't think I'm as interesting as my characters, but I like doing what I do.
Tags: Life, Real, Times
I usually eat six times a day, small meals. For breakfast, an egg and a corn tortilla, salsa and cilantro, and some ham. For snacks, I'll have an apple, some string cheese, a yogurt. For lunch I'll have salad with protein in it and for dinner usually steamed vegetables and chicken or fish.
Tags: Fish, Small, Times
I work out six days a week. I do pilates, Bikram yoga and spinning. Every once in awhile, I'll throw weights in. I like to get some kind of cardio in every day, even if it's just hiking.
Tags: Days, Once, Work
I'm from Manchester, Mass., so it was lobster, lobster and more lobster! Also, lots of fish that we caught in the summers, clam chowder and roast beef sandwiches. But my mom was pretty healthy; we had a lot of chicken and broccoli and rice as well.
Tags: Fish, Mom, Pretty
One of the great things about 'Jericho' that is a parallel with 'Over There' is, in this country, we tend to forget the news we don't want to know about. We're so oversaturated with media and other images that we can turn our head a little bit.
Tags: Country, Forget, Great
What frustrates me about some high-concept shows is that they don't give you information until sweeps, but 'Jericho's' audience will get a large piece of the puzzle every week.
Tags: Give, Until, Week
When I can afford it, I'm very into organic food and I love going to restaurants that use organic produce and such. I think that it's a shame for everyone that, unfortunately, organic can be pretty expensive, so you just do what you can.
Tags: Food, Love, Pretty
Visit partners pages