Bharati Mukherjee's Quotes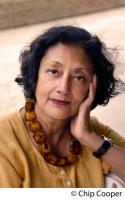 See the gallery for quotes by Bharati Mukherjee. You can to use those 8 images of quotes as a desktop wallpapers.
Visit partners pages
Much more quotes by Bharati Mukherjee below the page.
My mother's rules had to do with feminine deportment, so I never played hard enough to break a toy or muddy my dress. My father's rules had to do with never shaming the family by even a hint of scandal, and not providing business rivals with an opportunity to kidnap me or throw acid in my face.
Tags: Business, Family, Mother
One of the early tip-offs to me about the enormous changes that were going on with being in a Bangalore house, home, where the young woman from a nearby village, who had been hired to baby sit newborn twins, suddenly said after two weeks of work: 'I'm sorry, this is too much work, I'm going to try applying for call center jobs. The pay is better.'
Tags: Home, Sorry, Work