Corrine Brown's Quotes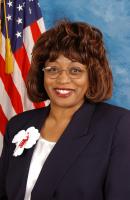 See the gallery for quotes by Corrine Brown. You can to use those 7 images of quotes as a desktop wallpapers.
Much more quotes by Corrine Brown below the page.
This administration is cutting the programs that our Nation and its citizens need most, while dissolving the safety nets created to protect the elderly and less fortunate in this wealthy Nation.
Tags: Less, Nation, While
We continue to subsidize highways and aviation, but when it comes to our passenger rail system, we refuse to provide the money Amtrak needs to survive.
Tags: Money, Needs, System