Darius Khondji's Quotes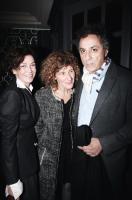 See the gallery for quotes by Darius Khondji. You can to use those 8 images of quotes as a desktop wallpapers.
Believe me, I don't like being photographed. I don't like myself in pictures. Actually, I do sometimes.
Tags: Actually, Pictures, Sometimes
I have lived most of my life in Paris, but I have a connection with Rome that I have with no other place. I'm attached by invisible strings.
Tags: Invisible, Life, Place
I've learned one general thing in filmmaking: to work with one strong idea. One strong concept that pushes you to work in a certain way artistically.
Tags: Learned, Strong, Work
When you do movies on low budgets, you don't want to have a location that requires a very big light right outside the window when you're 10 stories up. You have to find a location where you have a terrace outside, or you can light from a second floor, or you can light through the windows for daylight.
Tags: Big, Light, Movies
Visit partners pages