Eddie Slovik's Quotes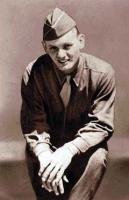 See the gallery for quotes by Eddie Slovik. You can to use those 8 images of quotes as a desktop wallpapers.
Honest honey, I feel like crying every time I sit down to write you a letter... I am so unlucky.
Tags: Honest, Time, Write
I am in the infantry for 17 weeks and after that I don't know where I am going.
Tags: After, Infantry, Weeks
I think I'm going to have a lot of trouble.
Tags:
Trouble
I'm sorry I didn't go to jail for six months, then I know you could come to see me anytime you wanted to.
Tags: Jail, Sorry, Wanted
The only luck I had in my life was when I married you. I knew it wouldn't last because I was too happy. I knew they would not let me be happy.
Tags: Happy, Last, Life
They're not shooting me for deserting the United Stated Army - thousands of guys have done that. They're shooting me for bread I stole when I was 12 years old.
Tags: Done, Old, United
Visit partners pages