Gerard Depardieu's Quotes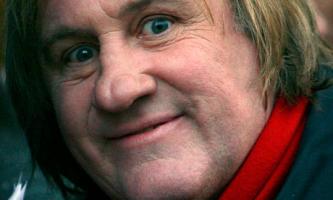 See the gallery for quotes by Gerard Depardieu. You can to use those 6 images of quotes as a desktop wallpapers.
Cooking is not difficult. Everyone has taste, even if they don't realize it. Even if you're not a great chef, there's nothing to stop you understanding the difference between what tastes good and what doesn't.
Tags: Between, Good, Great
I do this profession. I'm an actor. And it is, for me, an opportunity to meet people.
Tags: Actor, Meet, Profession
I don't snack all the time, but I do sometimes drink l more than I should.
Tags: Drink, Sometimes, Time
I have learnt a lot about my body since my heart attack. I don't drink as much now as before.
Tags: Body, Heart, Since
I'm curious about people. That's what I've always done since I've been a small boy. I'm curious about others.
Tags: Done, Others, Small
I'm living in the present. I have no ambition. It's true. But I want to live.
Tags: Ambition, Living, True
I've had affairs. But I'm not the sort of man who has 10,000 affairs.
Tags:
Affairs
In the film industry, all the money is focused on television and the stupidity of American cinema.
Tags: American, Money, Stupidity
The relationship between an actor and a director is like a love story between a man and a woman. I'm sure sometimes I'm the woman.
Tags: Love, Sometimes, Woman
I like the idea of bringing cartoon characters to life... and although the Americans have already attempted this, their culture is not sufficiently humane to make it work.
Tags: Idea, Life, Work
Visit partners pages