Jonathan Banks's Quotes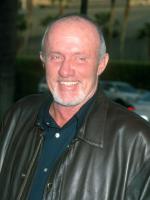 See the gallery for quotes by Jonathan Banks. You can to use those 6 images of quotes as a desktop wallpapers.
Forty-five years since I made my first paycheck, and I'm telling you that 'Breaking Bad' is as good as it gets.
Tags: Bad, Good, Since
I honestly do feel - and I hope I don't gag anybody if they read this - but I feel like I'm one of the luckiest people in the world.
Tags: Anybody, Hope, Read
Thank God for theater and film and television and my very, very, very lucky life.
Tags: Film, God, Life
'Wiseguy' for its time was good. It was really good. And it holds up still. But a lot of the restraints have been taken off now.
Tags: Good, Off, Time
I grew up in Chillum Heights in the Washington, D.C. area., and it was never a garden spot. When guys go, 'Hey, when I grew up, my neighborhood was tough, and it was this and that'... the reality is that it was just a terribly sad place. And thank God, I was able to escape it.
Tags: God, Reality, Sad
I have no trouble walking around. But every once in a while, somebody will come, during the course of the day, and say, 'Oh, I recognize you from such-and-such,' and yeah, they'll make a connection. I think for the most part, people don't go, 'Where do I know him from? Does he work at the bank?'
Tags: Him, Once, Work
I love Russell Crowe's line to Oliver Reed in 'Gladiator' where he asks him, 'Are you in danger of becoming a good man?' It's one of my favorite lines ever.
Tags: Good, Him, Love
I've died so many times. I'm 65. On my 40th birthday, my girlfriend gave me a reel with ways I had died, whether it was by knife, or electrocution or drowning or being thrown off a building or whatever it might have been. I've died a lot of times!
Tags: Birthday, Girlfriend, Off
I've got eighteen-year-old twins that need to go to college, so there's still a financial issue, but I could retire tomorrow and just count ducks by the side of the lake, and that would be just fine by me. I'm not a high-energy guy.
Tags: College, Guy, Tomorrow
If you had told me in the Seventies and Eighties that TV would be as edgy or edgier than most films, and more intelligently written than most films, I wouldn't have believed it. There's great stuff out there.
Tags: Great, Stuff, Written
The funniest guy I've ever worked with - it's just one of those things, again, where we look at each other and just laugh - is Jimmy Byrnes from 'Wiseguy.' Jimmy - we can't be in the same room together. He knows he can make me laugh just by looking at me.
Tags: Again, Laugh, Together
When I walk onto a set, no matter what it is, I always do the very best work that I can. But I'm not braindead, and I want to do things that I want to do, you know?
Tags: Best, Matter, Work
Visit partners pages