Ken Jennings's Quotes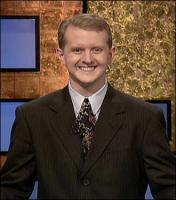 See the gallery for quotes by Ken Jennings. You can to use those 8 images of quotes as a desktop wallpapers.
Visit partners pages
Much more quotes by Ken Jennings below the page.
If I start outsourcing all my navigation to a little talking box in my car, I'm sort of screwed. I'm going to lose my car in the parking lot every single time.
Tags: Car, Single, Time
People are using GPS systems to find millions of little hidden objects throughout the world - often as simple as a piece of Tupperware hidden in the woods. You go to a website, you get the latitude and longitude to get the specific location of a certain specific hiding space, and then you go there and see if you can find it.
Tags: Often, Simple, Space