Kenneth R. Miller's Quotes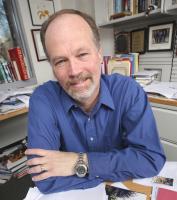 See the gallery for quotes by Kenneth R. Miller. You can to use those 8 images of quotes as a desktop wallpapers.
Visit partners pages
Much more quotes by Kenneth R. Miller below the page.
In an age of molecular genomics, it is ever more apparent that the fingerprints of evolution are pressed deeply into human DNA, just as they are into the genomes of every other organism. Biologists understand this, and so do students who study the science of life.
Tags: Age, Life, Science
Modern science developed in the context of western religious thought, was nurtured in universities first established for religious reasons, and owes some of its greatest discoveries and advances to scientists who themselves were deeply religious.
Tags: Greatest, Science, Thought