Maura Tierney's Quotes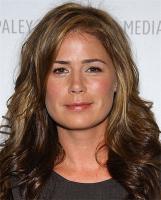 See the gallery for quotes by Maura Tierney. You can to use those 7 images of quotes as a desktop wallpapers.
I tend to focus on what I'm doing at the moment, and that takes up the entire span of my focus.
Tags: Focus, Moment, Takes
I wish I had a little more joy of cooking - because mostly I have anxiety of cooking. I'm so proud when things come out well.
Tags: Joy, Proud, Wish
I'm not really the nurturer type.
Tags:
Type
I've been misquoted a lot, and there's this tendency for people to put on to you how they think you should be or what they think you should feel.
Tags: Misquoted, Put, Tendency
In a man, I like funny guys. A guy who doesn't have a lot of therapy, who's mature. A man, not a boy.
Tags: Funny, Guy, Guys
It's a life-changing thing to be in a position of needing help and being so lucky as to get it.
Tags: Help, Lucky, Position
My answer to a lot of things is to go to work. That's not everybody's answer.
Tags: Answer, Everybody, Work
Visit partners pages