Michael F. Easley's Quotes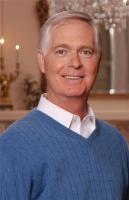 See the gallery for quotes by Michael F. Easley. You can to use those 8 images of quotes as a desktop wallpapers.
Real vision demands that we make tough choices. Real vision is responsible and it is paid for.
Tags: Real, Tough, Vision
As Governor of North Carolina for two terms, I made improving education a top priority.
Tags: Education, Priority, Top
As you may know, previously as Attorney General and now as Governor, I have supported legislation to close the gun show loophole in North Carolina.
Tags: Gun, May, Show
Because education is the backbone of a competitive workforce and successful economy, making it a priority is not uncommon.
Tags: Education, Making, Successful
Early college high schools in North Carolina and across the country show us that challenge - not remediation - is an approach to education that works.
Tags: Challenge, Country, Education
I had hoped to let the one-half cent sales tax sunset this year, but we do not believe revenues will grow as fast as we hoped for the rest of the year.
Tags: Grow, Rest, Year
We must remember that North Carolina is more than a collection of regions and people. We are one state, one people, one family, bound by a common concern for each other.
Tags: Family, Remember, State
Visit partners pages