Mort Sahl's Quotes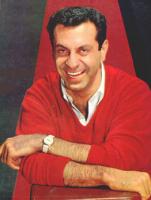 See the gallery for quotes by Mort Sahl. You can to use those 7 images of quotes as a desktop wallpapers.
Liberals feel unworthy of their possessions. Conservatives feel they deserve everything they've stolen.
Tags: Deserve, Liberals, Stolen
People tell me there are a lot of guys like me, which doesn't explain why I'm lonely.
Tags: Lonely, Tell, Why
Washington couldn't tell a lie, Nixon couldn't tell the truth, and Reagan couldn't tell the difference.
Tags: Lie, Tell, Truth
Reagan won because he ran against Jimmy Carter. If he ran unopposed he would have lost.
Tags: Against, Lost, Won
Visit partners pages