Paul Rand's Quotes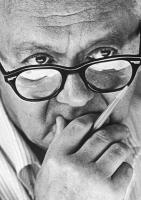 See the gallery for quotes by Paul Rand. You can to use those 8 images of quotes as a desktop wallpapers.
Visit partners pages
Much more quotes by Paul Rand below the page.
In the West, we look at art through life. Well, that's one way of living. In the Orient they look at life through art. They even drink their tea without sugar, for the same reason that they don't like a lot of frilly decorations on a painting. I can't stand butter on my bread for the same reason. I'm allergic to goo and rococo.
Tags: Art, Life, Living
Pictures, abstract symbols, materials, and colors are among the ingredients with which a designer or engineer works. To design is to discover relationships and to make arrangements and rearrangements among these ingredients.
Tags: Design, Engineer, Pictures