Ronny Cox's Quotes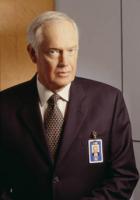 See the gallery for quotes by Ronny Cox. You can to use those 8 images of quotes as a desktop wallpapers.
Even though these days I'm very selective about what roles I want to do, I will do Stargate anytime they call.
Tags: Call, Days, Though
I found out a long time ago that if I didn't have a good story for a song, I could just make one up! Now it seems over half the stories in my show are made up. The funny thing is, those seem to be the ones that resonate the most with the audiences.
Tags: Funny, Good, Time
I much prefer playing the bad guys. I think they are always the most interesting characters. I liken it to painting: if you're playing the good guy, you get three colors: red, white and blue. But if you're the bad guy, you get the whole palette.
Tags: Bad, Good, Whole
I think that's the great thing about music: It can communicate emotionally. And you don't have to necessarily get all of the words. I mean you have to know what is being said, but didn't you find even if you didn't get all of the words, you certainly get the emotion?
Tags: Great, Mean, Music
Visit partners pages