Suzi Quatro's Quotes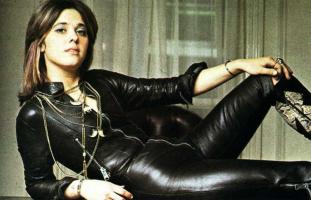 See the gallery for quotes by Suzi Quatro. You can to use those 8 images of quotes as a desktop wallpapers.
The bass player's function, along with the drums, is to be the engine that drives the car... everything else is merely colours.
Tags: Along, Car, Else
A bass should sound like a bass with the thump of the finger against the wood, like it began with stand up.
Tags: Against, Sound, Stand
I am flattered to have been the woman to have opened the door for female rockers to be accepted into the mainly male industry.
Tags: Door, Industry, Woman
I have recorded nine tracks for a new album which I financed myself and am looking for a home for.
Tags: Album, Home, Looking
After moving to England I did some recording and eventually formed an English band, this was together for quite a few years with only a keyboard replacement. The band had no name, just my name.
Tags: After, Moving, Together
As far as more recognition goes, I am happy with the amount of love and respect I have received from other artists and the public. Of course, I would love more, and think I deserve it.
Tags: Happy, Love, Respect
I also have a big love of classical music played on piano because this is the environment I grew up in my brother being one of the great masters in this world.
Tags: Great, Love, Music
My feet never touched the ground. Lots of good groups with crazy and unique images. It was wild. I spent all of my time doing gigs, TV appearances, interviews, or recording. I could write a book - and probably will.
Tags: Crazy, Good, Time
The Pleasure Seekers eventually turned into Cradle, when we started writing our own material. My younger sister Nancy was brought in as singer and I kind of stepped aside as main lead singer and concentrated on my instrument.
Tags: Sister, Started, Writing
Visit partners pages