Eric Stonestreet's Quotes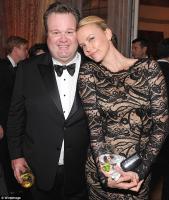 See the gallery for quotes by Eric Stonestreet. You can to use those 8 images of quotes as a desktop wallpapers.
Bringing up a child in a loving relationship is the most important thing.
Tags: Bringing, Child, Loving
I wasn't a great student; I was lazy. But when I was in sociology class, I listened.
Tags: Great, Lazy, Student
My mom's passionate and energetic and very funny and enthusiastic.
Tags: Funny, Mom, Passionate
No, I'm not gay.
Tags:
Gay
Quickly you learn it's way better to have fans talking and caring about you than not.
Tags: Caring, Learn, Talking
The most important thing for me as an actor playing a character is to make you laugh. That's my No. 1 goal.
Tags: Character, Goal, Laugh
When I was a kid, I wanted to be a clown. I didn't want to be an actor, I wanted to join the circus and entertain people.
Tags: Actor, Kid, Wanted
My dad had a retail business in Leavenworth, Kansas, and there's a whole bunch of prisons there, so it was a backdrop of my childhood, these ominous prisons sitting off the road.
Tags: Business, Dad, Whole
Visit partners pages