Freddie Prinze, Jr.'s Quotes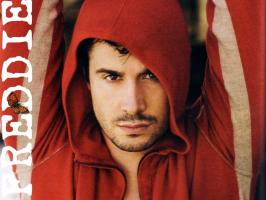 See the gallery for quotes by Freddie Prinze, Jr.. You can to use those 8 images of quotes as a desktop wallpapers.
Life is not about making dough or how many movies you can make in a year. It's about finding someone that you can share things with.
Tags: Life, Movies, Someone
I know how to create and make people feel something. Honestly, if I didn't do this, I would just have some minimum-wage job in New Mexico, and I would go out on the weekends and make just enough money to pay my insurance and pay for a couple beers, and that would be it.
Tags: Enough, Job, Money
I was raised to believe in myself. I know I'm cool. I'm not trying to brag or say I'm the man or anything like that. I don't lie or cheat, and I'm not mean to anybody. I treat people with respect.
Tags: Cool, Lie, Respect
When I was in school I read a lot of comic books and pretend I was in them and kids would tease me and call me names. But now I do the same things and people say that I'm artistic and cool and I'm doing the exact same thing I did in high school.
Tags: Cool, Kids, School
Visit partners pages