Joseph Franklin Rutherford's Quotes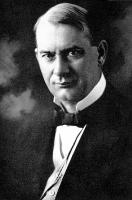 See the gallery for quotes by Joseph Franklin Rutherford. You can to use those 8 images of quotes as a desktop wallpapers.
Visit partners pages
Much more quotes by Joseph Franklin Rutherford below the page.
Reason would lead us to the conclusion that Jehovah would not create a wonderful earth like this, permit man to bring it to a high state of cultivation in many places, and then completely destroy it.
Tags: High, Reason, Wonderful
Since the days of Abraham many men of unusual intellect not only have diligently studied the divine plan, but have devoted their lives to having a part in making it known to others.
Tags: Making, Men, Others